14 April 2022
Six Reasons to Hire Commercial Cleaning Services
Call a professional the next time you're struggling to clean up after someone who drinks coffee at their desk has spilled it all over! Commercial cleaners know how important maintaining an industrial space is and will make sure any stain isn't too much a hassle to clean.
Keep your staff feeling confident and productive with commercial cleaning services Melbourne. You can rest easy knowing they're less likely to get sick during allergy season with well-maintained surroundings.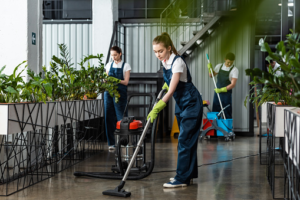 Why Hire Commercial Cleaners for Your Office Space?
When you have an office, the space must be clean and welcoming. A professional Commercial Cleaning Melbourne services will ensure your workplace meets all health codes, so clients can arrive confident in their surroundings while also boosting brand awareness by preventing messes from occurring on-site or off of property during cleaning sessions with us!
Increases Productivity
Hiring commercial cleaning services in Melbourne can keep your employees happy and productive. This makes for an efficient work environment, but it also shows customers that you care about their well-being by providing clean office space on top of any other benefits they may receive from hiring one of our services!
Fewer Germs
The cleanliness of your workspace has a significant impact on your health and safety and other employees. A commercial cleaning company can keep things in order so that no one gets sick from germs spread by dirty hands or exposed surfaces like toilet seats!
More Motivation
Hiring a commercial cleaning company is the best way to ensure your office space always looks the finest. You will be able to hire professionals who know what they're doing, but you will also get rid of all those pesky germs that could make employees sick!
Cost-effective
When you hire a commercial cleaning company for your building, they are qualified to clean it up the right way. Still, they also cost less than doing so yourself, saving time and money from having an inefficient staff that won't do what needs doing correctly for customers' satisfaction levels, ultimately leading them back into wanting more!
Hiring Office Cleaning Services Melbourne is the best way to ensure your workspace looks good and clean for you and your employees. These companies take care of all tasks so that there's no need to do them yourself – saving time and money!
Better Image
They can help you maintain an excellent image for your business. In addition, it will improve the productivity and health of staff members by keeping the workspace clean in all areas where they work or live while improving their air quality with our toxic-free products.
Better Output
Hiring a commercial cleaning service is the best way to make your business look professional and keep it clean. They'll do everything from removing dirt, dust, or any other grime that might accumulate in an office building daily while ensuring they leave behind spotless walls free from germs!
It is the best way to avoid hassle and keep your office looking great. Even if you don't think it's worth investing in, just one visit from this professional team can save work hours when they come around every week or two weeks!
Final Take
Hiring a Commercial Cleaners in Melbourne is the best way to keep your employees healthy and happy. With less time spent feeling unwell, they'll be able to work more efficiently, which means you can save money on medical bills by having them stay at their most productive level! Call Sparkle Office Cleaning services at +61421830198 for more information.